T 
 

THE BOUNCE CLUB POWELL LOCATION
ANNOUNCEMENTS:  
Ages 5-9 Recreation Cheer Class will start Wed, November 1st from 5-6pm   (8 sessions)  $159 + $35 registration/ tshirt fee  (CURRENTLY FULL)
Ages 3-5  Recreation Cheer Class will start Thurs, Nov 2nd from  4-4:45pm   (8 sessions) $110 + $35 registration/ tshirt fee (5 spots still avaliable)
Performance Half Year team will need to call/email to sign up as this is a monthly fee.  This is for ages 6 and up Thurs, November 2nd 5- 6:30pm Monthly fee is $125 plus $35 registration/ tshirt fee 
*TO SIGN UP FOR RECREATION CHEER PLEASE CLICK ON SCHEDULE TAB AND GO TO CLASSSES AND YOUR PREFERRED DATE/TIME.  SPOTS ARE LIMITED!  OR EMAIL WITH QUESTIONS.
Friday nights is Kids night out-Elementary ages from 6-9pm includes pizza/drink $30
Saturday night is Tween Fun Night Out for both locations and is for middle school ages only.  It is from 7-10pm $30 includes pizza/drink and 3 hours of jumping fun!  Call or sign up ahead of time.
Tumbling classes offered on Fridays $15 (sign up ahead required)
Thursday Open Gym 7:30-8:30pm $15 all ages and any level
Friday- Level 1 (beginner) 4:30-5:30pm
Level 2 (back handsprings and more) 5:30-6:30pm
The Bounce Club offers Recreation cheer classes, a Performance team and Competition Cheerleading teams!   For questions regarding cheer, tumbling, or private lessons please email [email protected]rfor more information.   The Bounce Club Cheer
Monday Special!
Every Monday from Noon to 8 pm, $11 per jumper per hour.
Great Deals!
Fit Jump Pass $115 for 10 sessions
Family Class Pass $200 for 20 sessions
Open Jump Pass $135 for 12 sessions
Open Jump Pass $250 for 24 sessions
Want to gift someone jump time at The Bounce Club? Gift cards are available in person or e-gift cards can be purchased online under the online store.
Kids Night Out & Tween Night!
Friday night is KIDS NIGHT OUT from 6-9pm Elementary ages only
Saturday night is TWEEN NIGHT and is now from 7-10pm middle school ages only
Both are $30 and come with pizza/drink
You can fill the waiver out on your phone or personal device!  Just text bounceclub to 85775
At The Bounce Club, nothing is more important than the health and safety of our customers. We are taking precautions and using a company to do a total clean with treatments throughout our entire facility and all of the contents to eliminate active growth and eradicate germs. This process will also purify the air eradicating viruses and bacteria leaving our entire facility clean and sanitized with hospital grade disinfectant. We will continue with these treatments and extensive cleaning to ensure our guests and bouncers feel safe.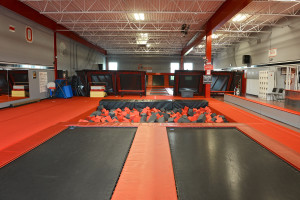 Open Jump
3Mon

 

Noon – 8 pm ($11/hr)
Tues/Wed/Thurs

 

Pre-school Open Jump 9:30 am – noon ($13 per hour/$9.50 for siblings)
Tues/Wed/Thurs

 

3 pm – 8 pm ($13/hr)
Fri

Toddler time 10am-11am ($13)             All ages welcome from

11am – 9 pm ($15/hr)
Sat

 

Toddler Time 10-11 am ($12) Open Jump 11am – 8 pm ($15/hr)
Sun

 

Noon – 8 pm ($15/hr)
Prices do not include the mandatory Bounce socks ($3.00)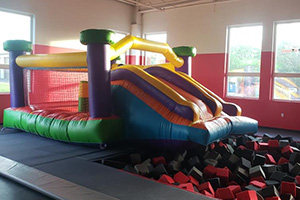 Toddler Jump
Sign your child up for Toddler Time and Preschool Open Jump! This is a great opportunity for young children to jump with kids their own age.
Tues-Thurs 9:30am- 12 pm $13/hour with siblings $9.50 p/hour
Friday/Saturday 10 am $13/hour
Sunday 11 am-12 pm $13/hour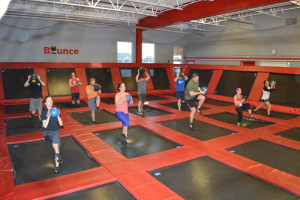 Fit Jump
  Tired of running on the treadmill or doing the same old boring workout routine? Join the Fit Jump class and burn up to a thousand calories while participating in bootcamp style training on the trampolines. Did you know that rebounding on a trampoline affects every organ and is directly related to the efficiency of the lymphatic and immune system? Not only will you burn a ton of calories, you are releasing toxins from the body. Classes are $15. Fit jump packages available.
Classes offered
Mon/Thurs 7pm
Fri 10am
Sat 9am ( check schedule as some Saturday classes may be canceled)